Review: Kill Your Darlings
JamesGilmore
W!ZARD News Author
Tweet
5 Stars - This tragic story portraying the collision of love, lust and literature is irresistibly beautiful and engaging. One film you must NOT miss.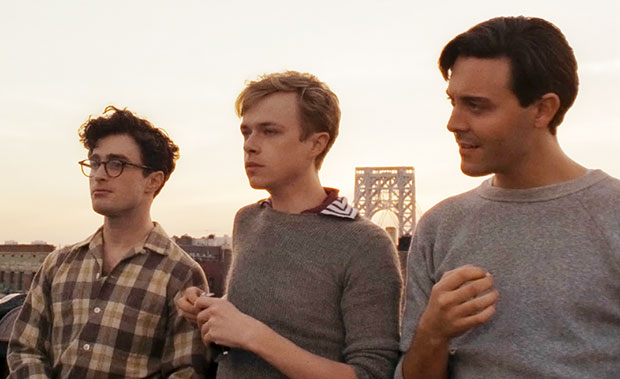 In 1944, literature was the way forward. It was an era of poetry and rebellion for the hugely popular literary world and, at the same time, a generation of great poets was forming. Most notably, Allen Ginsberg, Jack Kerouac and William S. Burroughs. However, there was another name who was supposed to be on that list.

Lucien Carr was born in New York City and, at the age of 14, met David Kammerer a man who, he was yet to find out, would have a profound influence on the course of his life. Kammerer was an English teacher at Washinton University and he was also a childhood friend of William S. Burroughs who also knew the Carr family.

Kammerer became obsessed with Carr and, over the next five years, he pursued Carr – showing up wherever the young man was enrolled at school.

On August the 13th, 1944, Carr and Jack Kerouac attempted, and failed, to ship out of New York to France on a merchant ship hoping to be in Paris in time for the liberation and to start a literary revolution. On the way back from the sign-up station, Kerouac bumped into Kammerer who asked where Carr was, Kerouac told him.

Kammerer, attempting to pursue his sexual desires, caught up with Carr and the two men went for a walk. According to Carr, from then Kammerer made a sexual advance on him – when Carr rejected it, Kammerer assaulted him physically which resulted (in desperation and panic) in Carr stabbing the older man. Carr then tied Kammerer's hands and feet, wrapped a belt around his arms, weighted the body with rocks and dumped it in the Hudson River.

In this slightly twisted yet truly engaging account of these shocking events, Daniel Radcliffe plays Allen Ginsberg (male protagonist of the film), an aspiring poet still trying to find his inner rebel. Radcliffe's performance as Ginsberg is flawless and insanely realistic. He falls in trance with Lucien Carr (Dane DeHaan) resulting in a sick yet beautiful relationship.

The film focuses on Ginsberg and Carr's mission to start a new revolution of poetry and all of the trouble they get in through-out this. Although the majority of the film focuses on the lead-up to the murder, rather than the moment Carr kills Kammerer (Michael C. Hall), all parts of the film are flawless and contain a sense of completeness.

Radcliffe and DeHaan steal the film with their chemistry and portrayal of their hugely controversial homosexual relationship which took place at a time whereby it was legally permitted to abuse homosexuals. Somewhat hypocritically, Dehaan's character, Lucien Carr, uses the fact that Kammerer was homosexual in his defence.

This is truly an astonishing piece of cinematography filled to the brim with skilled performances, dark poetry and jaw-dropping scenes representing the effects of love and lust the effects of those being quickly taken from you.

John Krokidas has directed this soon-to-be classic with a sense of assured style that goes above and beyond the mark in presenting a deeply engaging and fascinating film about a huge murder case – with no complaints afterwards about them potentially missing things out. It's a complete package with a great cast, crew and story.

This film is a huge achievement in the way of presenting the early intersection of the humanities and arts and the bonds, breaks and twists at every turn caused as a product of such a society.
By James Gilmore